Support for Your Patients
CareConnectPSS®—Help eligible patients start and stay on track with their therapy
Personalized support services for patients
CareConnectPSS represents Sanofi's more than 35-year commitment to supporting the rare disease community. This commitment includes building collaborative partnerships with patients, caregivers, and family members to help overcome challenges related to living with a rare disease. CareConnectPSS is designed to support each patient's unique journey through dedicated Case Managers and Patient Education Liaisons (PELs) who provide one-on-one assistance through a range of resources, programs, and other support offerings.
Depending on your patient's individual needs, a CareConnectPSS team of experts can assist with the following:
CareConnectPSS Case Managers can provide assistance with health insurance coverage, treatment planning, and care coordination with your patient's health care providers, including prior authorization or matters related to claims, billing, and out-of-pocket insurance costs. Additionally, your patient's Case Manager can assist with insurance changes related to your patient's employment status, age, or marital/dependency status. Your patient's Case Manager can also assist with treatment-site changes to accommodate relocations or vacations, as well as arrange drug acquisition for in-center and home infusions.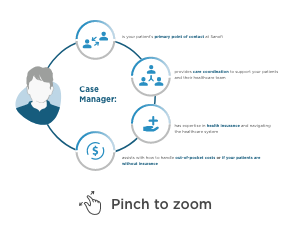 • Patient Education Support (PELs)
CareConnectPSS PELs can provide disease and treatment education on topics such as family trees, genetic inheritance, and genetic testing for your patient and their family members, if needed. Your patient's PEL can also provide additional resources for disease awareness to support your patients and their family.
Whether your patient's needs are large or small, your patient's CareConnectPSS Team will work closely with them to provide the confidential support they need. To learn more about our range of support offerings, your patient can reach their CareConnectPSS Case Manager at 1-800-745-4447, Option 3, or email us at Info@CareConnectPSS.com.
MAT-US-2205122-v1.0-10/2022 Last Updated: October 2022